ClassicCool Cattery is located in southern NJ in historic Woodbury. We are easily accessible to New York City, Eastern PA, Delaware, & Maryland.
ClassicCool Maine Coons started in 1996. We are a small cattery and have been since our inception. Our Maine Coons are all raised underfoot and have the run of our home. We produce quality kittens which meet the Maine Coon Breed Standard. Each of our kittens receives lots of individualized attention which is key to becoming a well socialized adult. For more information on our our kittens including current availablitiy please visit our Kitten Inquiries page.
When we started vending at cat shows, also in 1996, we took an immediate interest in the Maine Coon cats as we watched them compete week after week. We spoke to many breeders and after much deliberation we finally decided on our first Maine Coon. Many years prior to this we bred shaded silver Persians. CH Shadowrock Mozart's Riff was a cool brown tabby with a feral look. Riff was also our very first experience in showing a cat. We championed Riff in his first TICA show and then took him to CFA shows to see what each of the organizations was looking for in the breed. We also showed him in a few ACFA shows. Riff is still with us today approaching 16 years of age and 25 pounds. After Riff came GC Adventhill Haydn Sonata of ClassicCool. Sonata was our first Grand Champion and the first of our Grand Champion females. This was our beginning. The rest is history as they say.
We register our cats in both CFA and TICA. We are members of the Maine Coon Breed Council of CFA. Over the years we have been members of the Maine Coon Cat Club, Garden State Cat Club, and the Japanese Bobtail Cat Club. Donna is a member of the CFA Mentoring Program and has been doing this for the past few years. She is always happy to help newcomers with the knowledge she has gained in the areas of health, nutrition, grooming, and the presentation of our breed in the show ring. We have also been involved with Persians, Abyssinians and the Japanese Bobtail in years past.
We constantly strive to improve the breed. One of our goals has been to produce cats that meet the standard in both CFA & TICA. We keep up with all of the new health advancements made for our breed for our cats well being. In addition to this we have devoted much time and effort in showing our cats. In this venue we have been rewarded by their many accomplishments in the show ring. We have consistently produced many Grand Champions & Regional winners. We have received a Distinguished Merit Award and many National Awards from the Maine Coon Breed Council. Although our primary focus has been in CFA our cats have done well in both organizations with awards in both. Our cats' pedigrees contain International & Regional Winners in TICA as well as National winning cats in CFA.
We love our cats and the joy that they bring us.
CH C l a s s i c C o o l F u r E l i s e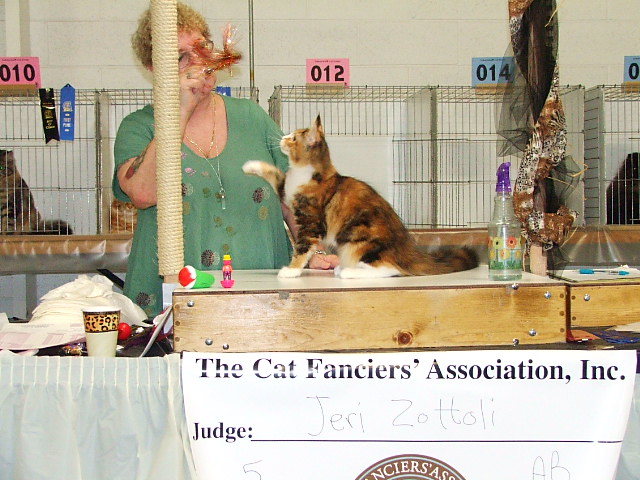 Judge Jeri Zotolli with CH ClassicCool Fur Elise in her first
show as a kitten.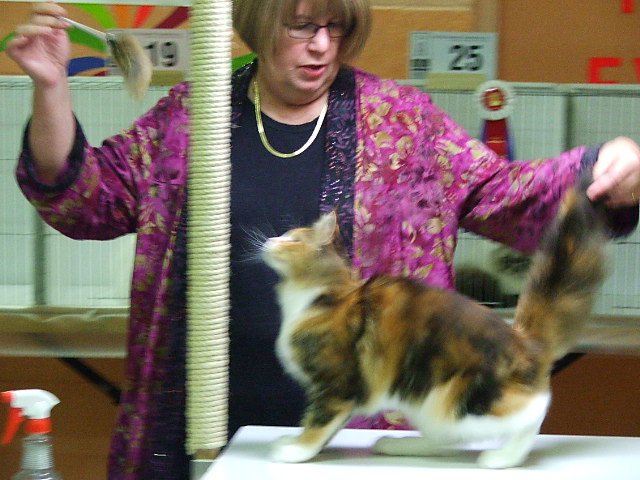 Judge Annette Wilson working with Elise at the Maine Coon Show
where she finished as 2nd Best MC Kitten in Show.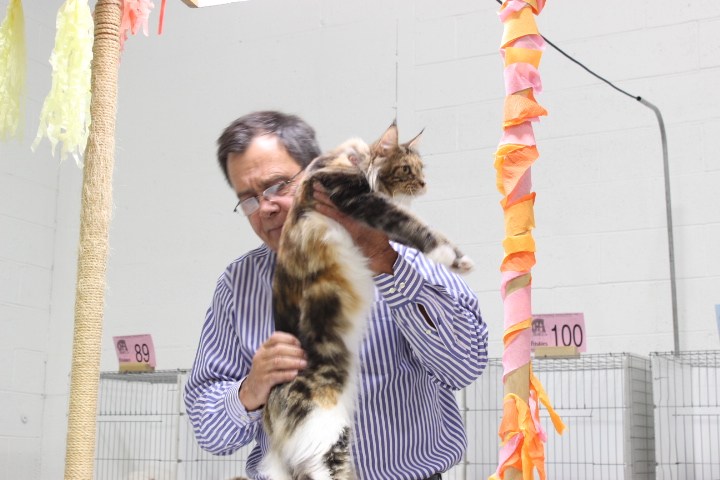 Judge Ken Currle showing off
Grand Champion ClassicCool Clair De Lune in his final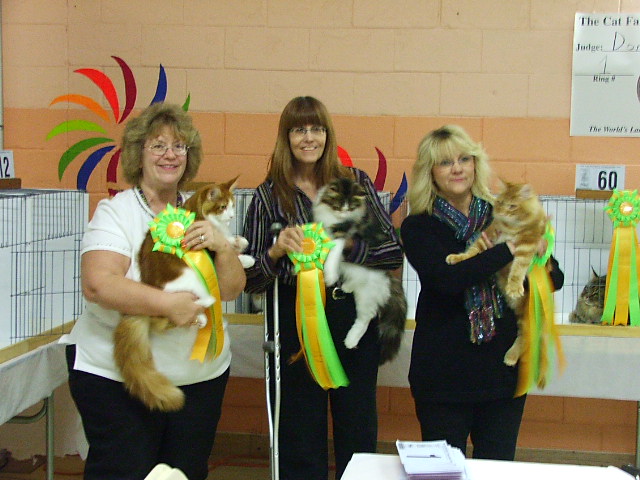 Pictures above are from the Maine Coon Cat Club Show in 2010.
Top left are the highest scoring kittens in the show.
ClassicCool Amadeus is Best and in the middle.
2014-2015 SHOW SEASON HAS BEGUN
ClassicCool Rhiannon is now a Grand Champion!
ClassicCool Rocky Racoon became a Grand Premier
We congratulate our catteries newest Grand Champions/Grand Premiers
for the 2013-2014 show season

GC ClassicCool Clair De Lune
GPR ClassicCool Gideon owned & shown by Linda DeVito

GPR ClassicCool Thor owned & shown by Lori Dolak
CH ClassicCool Rhiannon received a Regional Best of Color Award for
Best Brown Patch Tabby w. White in Championship in Region 1

Amadeus is proving himself to be a true asset to our cattery. He finished as the 23rd best AB kitten in our region. He was also the Best Maine Coon Kitten in our region for this season.
We would like to congratulate Teresa Keiger & GRP ClassicCool Blunote of Platina Luna for Granding in Premiership in Simpsonsville, SC. What a great way to kick off the 2010-2011 show season. Blunote was shown by CFA judge Teresa Keiger who does Long Hair Specialty. Teresa opted to use Blu to learn more about the Maine Coon breed as she is a Russian Blue breeder. We are honored that she did! You can see a picture of Teresa and Blunote on the following page (scroll down and click the "MORE" link.
Since the beginning of the 2009-2010 show season ClassicCool Red Hot Chili Pepper became a Grand Champion at only nine months of age. The show season has now come to an end and Chili has attained Best Maine Coon Kitten in our region. We showed him in championship for a time and he is also the Best of Color MC Kitten and the Best of Color MC Cat in Championship in our region. In addition to this he received the Third Best of Breed Award in MC's in Championship.
In the 2008-2009 show season GC,RW ClassicCool Little Richard Wagner finished as the 22nd Best Allbreed Cat in Championship. He is also the Best of Color MC for this season and the 2nd Best of Breed. This has been another successful year for our cats.
In the 2007-2008 show season in CFA GC,RW ClassicCool Little Richard Wagner, RICHIE, was the 4th Best MC Kitten Nationally. He was the Best Maine Coon Kitten in Region 1 and Best of Color Kitten. Richie placed 13th Best Allbreed Kitten in our region and came in 3rd Best of Breed Maine Coon in Championship this season. He also placed 2nd Best of Color in Championship. Richie was the Best MC Kitten at the Madison Square Garden show following in Taylor's footsteps from the previous year.
CH ClassicCool Sedona was our first cat to achieve a Distinguished Merit Award for our cattery. We are very proud of Sedona as she had to produce five CFA Grand Champions to receive this award. This is not an easy task.

O T H E R A C C O M P L I S H M E N T S
GC ClassicCool Red Hot Chili Pepper has been used in a TV commercial for Blue Buffalo cat food. His dad Richie was also used in the same commercial. This is now airing on various cable stations.The cats are in three seperate commercials.
GC ClassicCool Little Richard Wagner did a photo shoot with V Magazine for their publication while competing at the Madison Square Garden Cat Show in the last two years.
GC ClassicCool Vivaldi's Vixen is featured on a book cover, Love Is A Many Trousered Thing, by Louise Rennison.
ClassicCool Bono was also used in the Arm & Hammer litter commercial which aired on cable stations.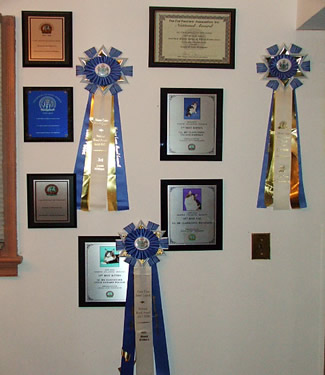 THESE ARE SOME OF OUR MATURE MALES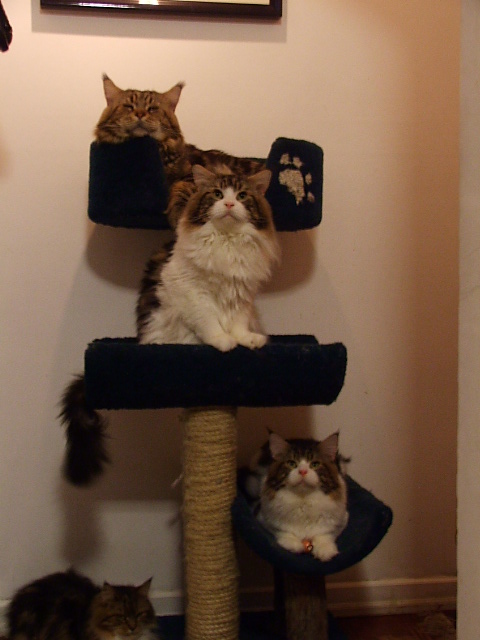 Please visit our kitten page for information for prospective parents.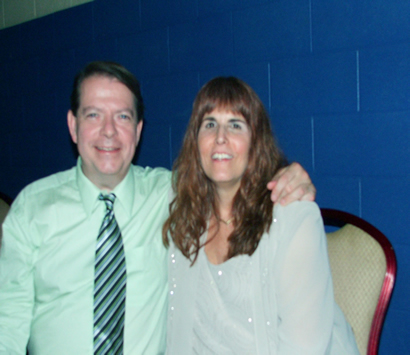 We hope that you enjoy
visiting our site.
Donna & Tony